Welcome to Love That Matters Ministries™
Special Message for Shawna Clark. We are here waiting for you. Call now.
720-298-6061
JESUS is LORD of ALL
To deliver us from sin
Jesus died and rose again
The Bible tells us that everyone falls short of GOD's perfection therefore all have sinned.
Romans 3:23 for all have sinned and fall short of the glory of God.
Acts 2:38 tells us that we need to repent in order to receive forgiveness of our sins and be baptized.
Repent means to change your mind about sin and begin to live for Jesus Christ the Messiah.
II Corinthians 5:15
,
John 1:41
, and
John 4:25
Jesus is the author and finisher of our faith.
Believe receive and confess Jesus Christ as your Lord & savior today!
Jesus is the only answer and your only hope of eternal life with God.
Encouraging you
Life can be difficult especially when you encounter personal loss.

Have you ever experienced the loss of a love one?
BY KAREN BRANSGROVE
Grief Letters is a resource for those who find themselves dealing with the loss of a loved one. Navigating death can be frightening and difficult. Karen has written these letters in hopes that by sharing the experience of her husband's sudden death, she might help you find courage and hope. ... Google Books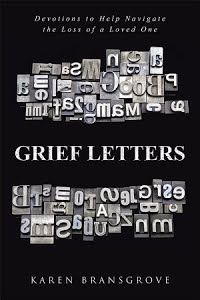 Pray for the enemies strongholds to be pulled down and cast away as far as the east is from the west.
2 Corinthians 10:3-5
For though we walk in the flesh, we do not war according to the flesh. 4 For the weapons of our warfare are not carnal but mighty in God for pulling down strongholds, 5casting down arguments and every high thing that exalts itself against the knowledge of God, bringing every thought into captivity to the obedience of Christ,

‪God calls and draws a person to Jesus for salvation according to

John 6:44

No one can come to Me

unless the Father

who sent Me draws him;
and I will raise him up at the last day.

Is God calling you today?

Is today the day of your salvation?
I will call upon the Lord
2 Samuel 22:2-4
2
And he
said:"The Lord
is
my rock and my
fortress and my deliverer;
3
The God of my strength,
in whom I will trust; My
shield and the
horn
of my salvation, My
stronghold and my
refuge;My Savior, You save me from violence.
4
I will call upon the Lord,
who is worthy
to be praised; So shall I be saved from my enemies.
BartClarkPastor@Gmail.com
So what's next?
Begin by asking God to enable you to follow Jesus.


Seek Godly Counsel
Psalm 1:1-6 (KJV)
1 Blessed is the man that walketh not in the counsel of the ungodly, nor standeth in the way of sinners, nor sitteth in the seat of the scornful. 2 But his delight is in the law of the LORD; and in his law doth he meditate day and night. 3 And he shall be like a tree planted by the rivers of water, that bringeth forth his fruit in his season; his leaf also shall not wither; and whatsoever he doeth shall prosper. 4 The ungodly are not so: but are like the chaff which the wind driveth away. 5 Therefore the ungodly shall not stand in the judgment, nor sinners in the congregation of the righteous. 6 For the LORD knoweth the way of the righteous: but the way of the ungodly shall perish.


God is the one and only among all beings there is One fixed, immovable, unchangeable. He alone can say, " I am the Lord, I change not " ( Mal. 3:6 ), and therefore speaking of Him, the prophet says, " Behold the Lord's hand is not shortened that it cannot save; neither is His ear heavy that it cannot hear "
( Isa. 59:1 ).
Follow this link to see a life changed by GOD

Hebrews 11:6
But without faith it is impossible to please Him, for he who comes to God must believe that He is, and that He is a rewarder of those who diligently seek Him.


Believe in Jesus
He believes in You
Discover Bible Baptism
Bart's Profile
720-298-6061